This is an article about imprecision and uncertainty, two in general poorly understood and often mixed up concepts. It's also about information, which I will define as saying something about something else¹. Information is the medium we use to convey and invoke a sense of that else; sharing our perception of it. The funny thing is, when we say something about something else, many things about the else will always get lost in translation. Information is, therefore, always imprecise and uncertain to some degree. What is perplexing, and less funny, is how we often tend to forget this and treat information as facts.
I think we have a desire to believe that information is precise and certain. The stronger the desire, the greater the willingness to interpret it as facts. Take Günther Schabowski as an example. When he, although uncertain, quite precisely stated that "As far as I know [the new regulations are] effective immediately, without delay." Those new regulations were intended to be temporary travel regulations with relaxed requirements, limited to a select number of East Germans. This later on the same day led to the fall of the Berlin wall and eventually contributed to the end of the cold war, if we are to believe Wikipedia. Even small words from the right mouths can have large consequences.
Now, in order to get a better understanding of imprecision and uncertainty, let us look at the statement 𝕊𝕙𝕖 𝕨𝕠𝕣𝕖 𝕒 𝕓𝕝𝕦𝕖 𝕕𝕣𝕖𝕤𝕤 in conjunction with the following photo.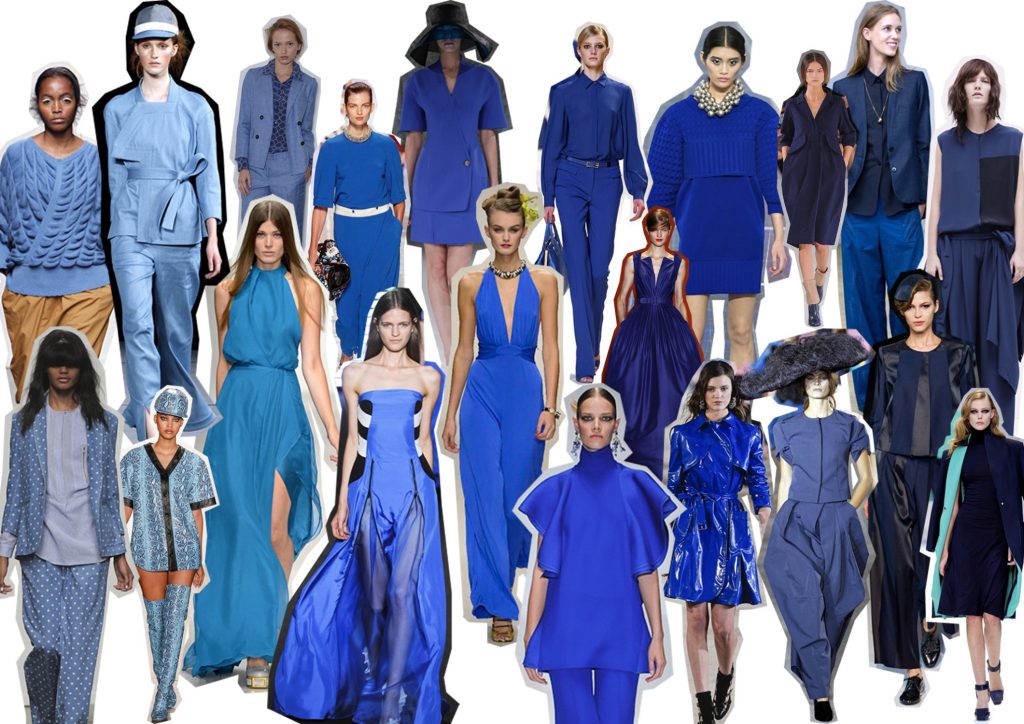 First, we assume that whoever 𝕊𝕙𝕖 is referring to is agreed upon by everyone reading the statement. Let's say it's the woman in the center with the halterneck dress. Then 𝕨𝕠𝕣𝕖 is in the preterite tense, indicating that the occasion on which she wore the dress has come to pass. In its current form, this is highly imprecise, since all we can deduce is that it has happened, sometime in the past.
Her dress looks 𝕓𝕝𝕦𝕖, but so do many of the other dresses. If they are also 𝕓𝕝𝕦𝕖 we must conclude that 𝕓𝕝𝕦𝕖 is imprecise enough to cover different variations. One may also ask if her dress will remain the same colour forever? I am probably not the only one to have found a disastrous red sock in the (once) white wash. No, the imprecise colour 𝕓𝕝𝕦𝕖 is bound to that imprecise moment the statement is referring to. To make things worse, no piece of clothing is perfectly evenly coloured, but this dress is at least in general 𝕓𝕝𝕦𝕖.
Finally, it's a 𝕕𝕣𝕖𝕤𝕤, but there are an infinite number of ways to make a 𝕕𝕣𝕖𝕤𝕤. Regardless of how well the manufacturing runs, no two dresses come out exactly the same. The 𝕕𝕣𝕖𝕤𝕤 she wore is a unique instance, but then it also wears and tears. Maybe she has taken it to a tailor since, and it is now a completely different type of garment. In other words, what it means to be a 𝕕𝕣𝕖𝕤𝕤 is imprecise and what the 𝕕𝕣𝕖𝕤𝕤 actually looked like is imprecisely bound in time by the statement.
In fact, 𝕊𝕙𝕖 𝕨𝕠𝕣𝕖 𝕒 𝕓𝕝𝕦𝕖 𝕕𝕣𝕖𝕤𝕤 would have worked just as well in conjunction with any of the women in the photo². Me picking one for the sake of argument had you focusing on her, but in reality, the statement is so imprecise it could apply just as well to anyone. Imprecise information is such that it applies to a range of things. 𝕊𝕙𝕖 ranges over all females, 𝕨𝕠𝕣𝕖 ranges from now into the past, 𝕓𝕝𝕦𝕖 ranges over a spectrum of colours, 𝕕𝕣𝕖𝕤𝕤 ranges over a plethora of garments. 𝕊𝕙𝕖 𝕨𝕠𝕣𝕖 𝕒 𝕓𝕝𝕦𝕖 𝕕𝕣𝕖𝕤𝕤, taken combined increases the precision, since not every woman in the world has worn a blue dress. Together with context, such as the photo, the precision can even be drastically increased.
With a better understanding of imprecision, let's look at the statement anew and how: 𝗔𝗿𝗰𝗵𝗶𝗲 𝘁𝗵𝗶𝗻𝗸𝘀 𝕊𝕙𝕖 𝕨𝕠𝕣𝕖 𝕒 𝕓𝕝𝕦𝕖 𝕕𝕣𝕖𝕤𝕤. Regardless of its imprecision, 𝗔𝗿𝗰𝗵𝗶𝗲 is not certain that the statement is true. The word 𝘁𝗵𝗶𝗻𝗸𝘀 quantifies his uncertainty, which is less sure than 𝗰𝗲𝗿𝘁𝗮𝗶𝗻, as in: 𝗗𝗼𝗻𝗻𝗮 𝗶𝘀 𝗰𝗲𝗿𝘁𝗮𝗶𝗻 𝕊𝕙𝕖 𝕨𝕠𝕣𝕖 𝕒 𝕓𝕝𝕦𝕖 𝕕𝕣𝕖𝕤𝕤. Maybe 𝗗𝗼𝗻𝗻𝗮 wore the dress herself, which is why her opinion is different. Actually, 𝗔𝗿𝗰𝗵𝗶𝗲 𝘁𝗵𝗶𝗻𝗸𝘀 𝕊𝕙𝕖 𝕨𝕠𝕣𝕖 𝕒 𝕓𝕝𝕦𝕖 𝕕𝕣𝕖𝕤𝕤, 𝗯𝘂𝘁 𝗶𝘁 𝗺𝗮𝘆 𝗵𝗮𝘃𝗲 𝗯𝗲𝗲𝗻 𝘁𝗵𝗲 𝗰𝗮𝘀𝗲 𝘁𝗵𝗮𝘁 𝕊𝕙𝕖 𝕨𝕠𝕣𝕖 𝕒 𝕡𝕚𝕟𝕜 𝕕𝕣𝕖𝕤𝕤. From this, we can see that uncertainty is both subjective and relative a particular statement, since 𝗔𝗿𝗰𝗵𝗶𝗲 now has opinions about two possible, but mutually exclusive, statements. These are, however, only mutually exclusive if we assume that he is talking about the same occasion, which we cannot know for sure.
Somewhat more formally, uncertainty consists of subjective probabilistic opinions about imprecise statements. Paradoxically, increasing the precision may make someone less certain, such as in: 𝗔𝗿𝗰𝗵𝗶𝗲 𝗶𝘀 𝗻𝗼𝘁 𝘀𝗼 𝘀𝘂𝗿𝗲 𝘁𝗵𝗮𝘁 𝔻𝕠𝕟𝕟𝕒 𝕨𝕠𝕣𝕖 𝕒 𝕟𝕒𝕧𝕪 𝕓𝕝𝕦𝕖 𝕙𝕒𝕝𝕥𝕖𝕣𝕟𝕖𝕔𝕜 𝕕𝕣𝕖𝕤𝕤 𝕥𝕠 𝕙𝕖𝕣 𝕡𝕣𝕠𝕞. This hints that there may be a need for some imprecision in order to maintain an acceptable level of certainty towards the statements we make. It is almost as if this is an information theoretical analog to the uncertainty principle in quantum mechanics.
But is this important? Well, let me tell you that there are a number of companies out there that claim to use statistical methods, machine learning, or some other fancy artificial intelligence³, in order to provide you with must-have business-leading thingamajigs. Trust me that a large portion of them are selling you the production of 𝕊𝕙𝕖 𝕨𝕠𝕣𝕖 𝕒 𝕓𝕝𝕦𝕖 𝕕𝕣𝕖𝕤𝕤-type of statements rather than fact-machines. Imprecise results, towards which uncertainty can be held. Such companies fall into four categories:
Those that do not know they aren't selling facts.
[stupid]
Those that know they aren't selling facts, but say they do anyway.
[deceptive]
Those that say they aren't selling facts, but cannot say why.
[honest]
Those that say they aren't selling facts, and tell you exactly why.
[smart]
Unfortunately I've met very few smart companies. Thankfully, there are some honest companies, but there is also an abundance of stupid and deceptive companies. Next time, put them to the test. Never buy anything that doesn't come with a specified margin of error, a confusion matrix, or some other measure indicating the imprecision. If the thingamajig is predicting something, make sure it tells you how certain it is of those predictions, then evaluate these against actual outcomes and form your own opinion as well.
Above all, do not take information for granted. Always apply critical thinking and evaluate its imprecision and the certainty with which and by whom it is stated.
¹ 𝘐𝘯𝘧𝘰𝘳𝘮𝘢𝘵𝘪𝘰𝘯 𝘵𝘩𝘢𝘵 𝘵𝘢𝘭𝘬𝘴 𝘢𝘣𝘰𝘶𝘵 𝘪𝘵𝘴𝘦𝘭𝘧 𝘪𝘴 𝘶𝘴𝘶𝘢𝘭𝘭𝘺 𝘤𝘢𝘭𝘭𝘦𝘥 𝘮𝘦𝘵𝘢-𝘪𝘯𝘧𝘰𝘳𝘮𝘢𝘵𝘪𝘰𝘯.
² 𝘈𝘵 𝘭𝘦𝘢𝘴𝘵 𝘧𝘰𝘳 𝘴𝘰𝘮𝘦𝘰𝘯𝘦 𝘸𝘪𝘵𝘩 𝘮𝘺 𝘭𝘦𝘷𝘦𝘭 𝘰𝘧 𝘬𝘯𝘰𝘸𝘭𝘦𝘥𝘨𝘦 𝘢𝘣𝘰𝘶𝘵 𝘨𝘢𝘳𝘮𝘦𝘯𝘵𝘴.
³ 𝘙𝘰𝘣𝘣𝘦𝘥 𝘰𝘧 𝘪𝘵𝘴 𝘰𝘳𝘪𝘨𝘪𝘯𝘢𝘭 𝘮𝘦𝘢𝘯𝘪𝘯𝘨, 𝘴𝘪𝘯𝘤𝘦 𝘸𝘦 𝘢𝘳𝘦 𝘧𝘢𝘳 𝘧𝘳𝘰𝘮 𝘩𝘢𝘷𝘪𝘯𝘨 𝘤𝘰𝘯𝘴𝘤𝘪𝘰𝘶𝘴 𝘮𝘢𝘤𝘩𝘪𝘯𝘦𝘴.